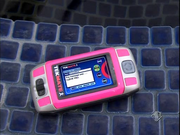 A
Tek-Mate
is a technological device introduced in Season 2 of Zoey 101 during the
Spring Break-Up
episode. It is an exact replica of the T-Mobile Sidekick II, and thus has the same functions as it.
At the end of Spring Break-Up Zoey's Tek-Mate falls into the water after Chase tells Zoey he love's her In a text. It seems that Zoey, has a later Tek-Mate in the series. However, she could/may have gotten a new one.
Functions
All Tek-Mates have a built-in VGA camera with flash, world phone, speakerphone, keyboard, e-mail and IM functionality, web browser and 32MB RAM. Tek-Mates are also available in a variety of colors.
Tek-Mate's served as the cellphone before Pearphone's in Nickelodeon shows.
Colors
Zoey: Pink (Fell in the fountain, may have gotten a new one).
Dustin: Red
Chase: Blue
Lola: Purple
Nicole: Yellow
Michael: Green
Quinn: Orange
Logan: Black
Trivia
==
Picture of Tek-Mate's case from Dan Schiender is below. ==