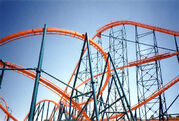 Mystic Mountain is an amusement park located near PCA. During "Roller Coaster", the gang takes Michael there to help him overcome his fear of roller coasters. The strategy works a bit too well as Michael remains there long after the rest of the gang returns to PCA.
Trivia
Mystic Mountain also appears in the Drake & Josh (one of Dan Schneider's previous shows) episode "The Demonator." "The Demonator" roller coaster featured in the episode was also "Goliath."
Mystic Mountain was mentioned a few times in Victorious and Sam & Cat (two other Dan Schneider shows).
Mystic Mountain is a parody of Six Flags. The scenes were filmed at Six Flags Magic Mountain in Valencia, California."The Spine Twister" was the Magic Mountain rollercoaster "Goliath."